Today, at The Extreme Business 2018 London workshop – we cover The Money Sessions.
Here's the agenda: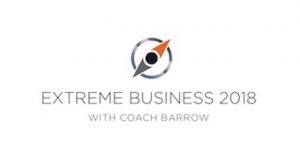 Workshop 2 – The Money Sessions
08:30 Arrival and coffee
09:00 Welcome and introductions for the day
• Review of the last quarter

o What were your most significant accomplishments?
o What were the mains things you would like to have achieved but didn't?
o What tolerations, obstacles or roadblocks do you need to address?
o What issues or challenges are you facing right now?
• The next quarter
o What are the biggest wins you can make in Q2?
10:30 Coffee
11:00 The Money Sessions – Part 1
• How do you collect and review your financial information?
• Understanding your profit and loss statement;
• Benchmarks for performance;
• Creating budgets and cash flow forecasts;
• Understanding the significance of OCPSPD.
12:30 Lunch
13:30 The Money Sessions – Part 2
• Measuring and managing clinician productivity and profitability;
• Accurate pricing;
• Tips on how to ethically maximise profit;
• Calculating the value of your practice.
15:00 Coffee
15:30 The next 90 days
• Your goals for Q2
• Open house – market overview and Q&A with Coach Barrow
17:00 Close