Even though it's Sunday and I'm very tired after 2 days of workshop delivery, who could possibly miss the world's biggest fun run?
80,000 runners congregate in Sydney's Central Business District this morning on a beautiful crisp, clear winter's day, to raise huge sums for charity and stretch themselves physically.
The event is open to people of all experience, as is evidenced by the variety of ages, shapes and sizes.
I arrive early via taxi and enjoy a good half hour of banter in a local coffee shop with a party of senior Australians who are down here from the Central Coast area, one of whom is taking part in his 42nd consecutive City2Surf. They make me so welcome and we laugh over breakfast.
Soon enough I meet my fellow runners, Scott Park (who doesn't run but plays a little football) and dentist Simon Lee who simply doesn't run!
They encourage me to shoot off at the start and promise to meet at the finish line but I have no interest in making "a time" or, for that matter, messing up my knee before the big bike ride, so I'm happy to race at their pace.
The start lines have to be staggered in location and time around the city, given the numbers involved, and so it's rather wierd to watch the winner finish in around 42 minutes on a plasma screen next to our starting pen as we wait to begin.
There's a huge Icelandic clap going on when we yellow bib holders eventually get the countdown and – we're off!
In the event, we finish our 14 km in a very slow 1 hr and 57 minutes, stopping frequently to take photos and walking about half the course as my two companions reach their limits.
It doesn't matter – my head is on a 360 degree swivel as I take in the amazing views of Sydney and the harbour, marvel at the beautiful homes and suburban villages we pass through and enjoy the regular music stations along the way.
The lifestyle around this place is simply off the scale good and the domestic architecture sometimes breathtaking. Having said that, such things come with a price and a 2-bed apartment in the Bondi area will set you back a cool million Australian dollars – you can work up from there.
Having negotiated the infamous Heartbreak Hill and the rest of the course, we eventually round a headland and see Bondi Beach laid out before us, with a massive snake of people winding their way down the hill and into the finish line at the promenade.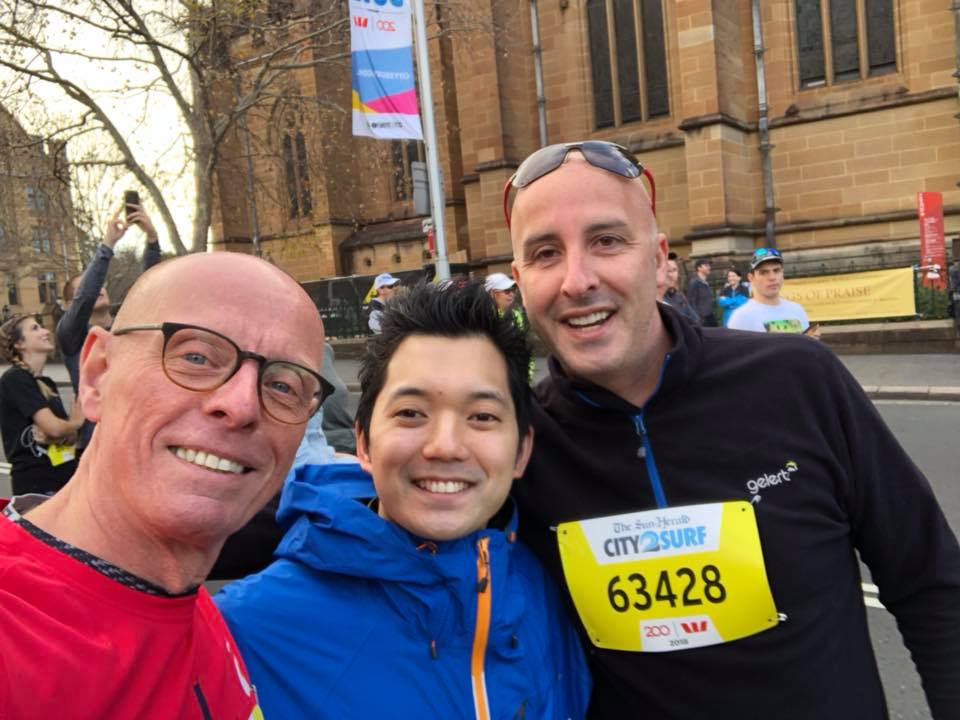 Job done, medals proudly acquired, we decide to avoid the crowds and make our way back into the city for a Sunday afternoon in Chinatown and a well-earned lunchtime banquet.
I'm back in the apartment for about 14:00 and, after a soak in the bath, I hit the sack and fall into a deep and restful sleep for a few hours – before it begins again!
But what a nice way to spend my last evening in Sydney, at the impressive Felix bistro and bar (very French) with Krishan and Geeta from Dental Focus and a small group of their local clients.
Dental Focus in Australia is a year old and, as in all things, the snowball is now starting to roll for them and Australian dentists are going to benefit from their expertise.
I'm honoured to have been invited and enjoy an evening of excellent conversation, food and wine with a lovely group.
Back late – tired and happy.