It was an idea that took shape in early October during a comprehensive meeting with my business coach, Rachel Turner.
After much discussion the decision was made to re-introduce Mastermind workshops for owners and managers after a break of 5 years.
An environment in which owners and managers could listen to me share my observations but also share with each other and encourage growth.
I had no idea whether the concept would find favour in the marketplace.
Today, 48 people from 21 practices will meet on the Edgware Road in London and we will formally begin our 2018 journey into the extremes of best business practice.
Today (perhaps predictably) will be a marketing day and I'll be sharing with the delegates my thinking around where best practice is in marketing to existing patients and generating word of mouth and/or digital referrals.
Note that this is a marketing day (not an advertising day) and so the currency I will be asking my clients to invest will not be cash – it will be the time and efforts of team members.
Internal marketing is hard to do. It requires open-minded people changing their own habits and asking patients to change theirs.
The results, however, more than justify the efforts.
I have clients who are over 50% up on sales and profits from December 2016 to December 2017.
Today, I'll be showcasing exactly what they have been doing.
The delegates in the Extreme Business 2018 programme will enjoy more than just a quarterly workshop: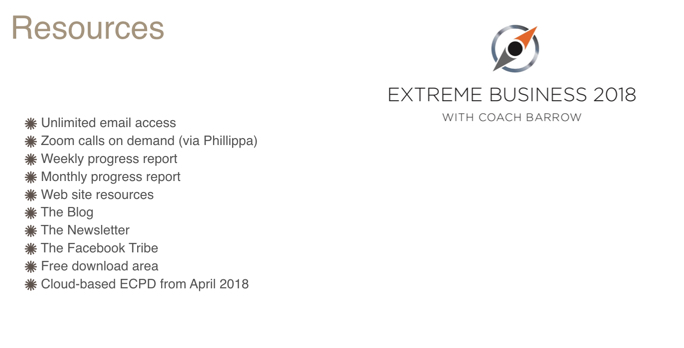 I'm truly excited this morning, which is probably why I woke at 04:30!
I'll be repeating the first workshop in Manchester next week on Tuesday 30th January – there are still places available.
My intention is to repeat the programme each year, so if you want to reserve a place for January 2019, please email coachbarrow@com